By Pittsburgh Post-Gazette (PA)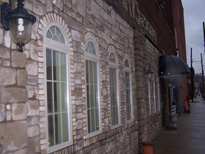 Snow or scorcher, no one dresses up to eat at Mary's Restaurant. People come for the food.

On this night on New Castle's South Side, eight construction workers, still in work clothes and hard hats, are squeezed around a corner table. In the back room, separated by some lattice work, a group of 10 couples is celebrating an anniversary. The rest are garden-variety couples, families and singles. Maher Mansour, one of the owners of the Syrian restaurant, makes everyone comfortable. The construction workers had just leveled an empty lot next to the restaurant for additional parking, and Mansour is treating them to dinner. ``Whatever you want,'' he says.

Red wine is moving around the table. Mary's has no liquor license, but people bring their own.

Mary's diners like the grilled lamb with pepper and garlic sauce. Kibbeh, which is ground lamb with herbs and cracked wheat, and stuffed grape leaves are big sellers, too. Dinners are priced from $3.75, for six stuffed grape leaves, to lamb and chicken ``on the rod,'' a grilled skewered meat, which is priced at $10.95. The popular Syrian breakfast includes two eggs, shunkleesh cheese, fried potatoes, olives, sausage and Syrian toast for $3.25.

Maher, 35, or his brother Samer, 36, makes the rounds with the endless refills on coffee.

The brothers have set an informal tone at Mary's, named for their mother, and they like it that way. ``In Syria,'' Maher says, ``only the rich eat in a restaurant. If you drop a fork, there are four people to pick it up. Here, everybody comes to eat, some on their way home from work, some families . . . everybody.

``I know some people in the United States who never cooked in 60 years.'' This makes him laugh.

The first member of the Mansour family to arrive in America was a third brother, Hissam, who came in 1976 from Marmaretta, Syria. The family chose New Castle because there were already relatives here. In 1979, their father, Fouad Mansour, came, but it was 10 years before other family members would be able to follow.

Fouad's wife, Mary, and son Maher came in 1989, and Samer followed six months later. Fouad's brothers Abdul and Michael Mansour are also here. Michael has a used-car business, and Abdul owns a grocery store as close to a Middle Eastern grocery, called a souk , as you will find. The store smells of herbs and cheeses. Ground spices and barrels of olives in brine sit side by side with Coca-Cola in cans. Abdul sells Middle Eastern food and likes to tell how to prepare it. He rolls his Syrian cheese in oregano, which his mother gathers in Syria and sends over with any one of the relatives making the trip from Marmaretta to New Castle.

None of the family planned to have a restaurant when they came here. In Syria, Maher had a cabinet business and employed seven people. When he came to the United States he couldn't continue that work without going to school to study English. He shrugged. ``I had to make a living, so we opened a restaurant. Mama never worked. This cooking comes from her kitchen at home.''

When he started the restaurant, he hired American waitresses, and then he and his wife quickly enrolled in a literacy program in New Castle.

In Syria, each of the five sons had his own business and gave all the money they made to their father. When any of the five needed money, Maher says, they would ask him for it. ``All the money came to my dad. He didn't ask why. He would just give it. Anyone can ask for it. That's how we do.''

Maher and Samer plan to open another restaurant in Boardman, Ohio, for the two brothers yet to come from Syria, a ``fancy restaurant,'' he says.

Maher promises that the restaurant on Long Avenue will remain open. Six family members work in the kitchen at Mary's. ``This is where we started in December of 1989. I will keep my family working here.''

Both brothers are married to Syrian women. Samer and his wife, Abier, live above the restaurant with their 2-year-old daughter, Mary Ann, as do his parents. Maher and wife Sylvia have two children and live not far away.

Mary Ellen Sotus, who teaches Abier English through the Lawrence County Adult Literacy Program, is impressed with their family life. ``The children are not left with a baby sitter,'' she says. ``The family members look after them.''

Maher is pleased with the response to the restaurant. ``We have gone from five customers a day to a couple hundred, step by step. There are three families making a living from this restaurant. We all work 14 hours a day. We make tabbouleh three or four times a day. When we serve spinach, we have to wash it and cut it when people ask for it. We can keep spinach maybe three, four hours.''

Besides all the chopping and cooking, the Mansours make their own bread, cheese and pastries. Their Syrian flat bread is popular in the community and is sold in local grocery stores.

Asked who makes the bread, Maher says, ``Everybody. Right now, my brother makes the bread, but if he is sick, or busy, everybody knows how to do everything. My daddy, my mother, they all know how to do it.''

The Mansours love the United States. ``In Syria there are rich people and poor people, no middle class. You must work each day to make your living. You can't make money to get ahead.''

Frank Verterano is a New Castle attorney who eats lunch there every day. ``Why would anyone eat hamburgers and fries for $5 when you can have this healthy, delicious food?'' he asks.

Mary's is open from 11 a.m. to 10 p.m. Monday through Saturday, at 131 E. Long Ave., catty-corner from the New Castle Playhouse. The phone is 652-2447.